Details:
* * *
Laura
Line : Harmony Girl
Compatible Body : Harmony Girl Body / Harmony Boy G Body / Grace Girl Body (Choose 1)
Skin : Normal / White (Choose 1)
Eyes : 16 mm
Wig : 8~9 inch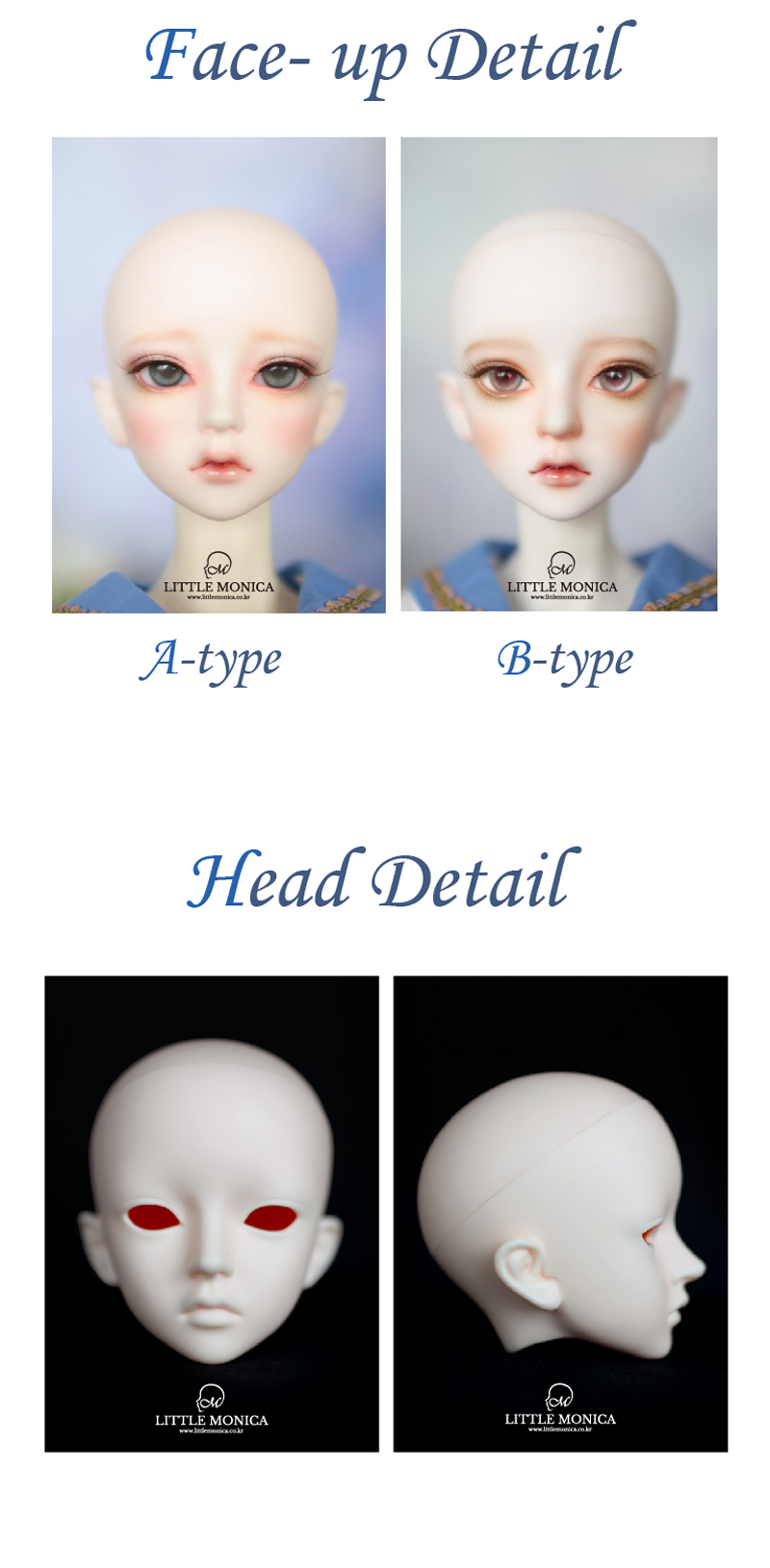 PACKAGE
Full Doll - Head + Body(fully assembled)
1 pair of Basic or Heel Feet Part
16mm Acrylic Eyes(random color)
Sculpey for eye attachment
1 Head Cover, Default Box, 2 Pillows
Certificate of Authentication
NOTE
▪ Order will ship in around 30-50 business days(excluding weekends and holidays)
upon receipt of payment.
▪ If you add Face-Up, or Body Blushing, or both options, 7~10 extra business days will be taken.
▪ If you choose to have 'Other Type Default Face-Up,' exchange or refund will not be possible.
▪ Wig, eyes, outfit, body in the image are not included in the basic configuration.
▪ Once body blushing has done, little bit of abrasion can occur around the joints.
▪ Colors may slightly differ depending on your monitor screen types and settings.
▪ It was taken the pictures with Harmony Girl Body.
APPROXIMATE MEASUREMENTS
Total height : 57.5cm
Head circumference : 22.3cm
Neck circumference : 9cm
Shoulder width : 12.5cm
Small Bust circumference : 22.5cm
Big Bust circumference : 25cm
Arm length : 22.7cm
Hand length : 5.8cm
Waist circumference : 17.3cm
Hips circumference : 25.5cm
Thigh circumference : 14.5cm
Leg length : 33.5cm
Foot length : 6.5cm
Heel Foot length : 6.6cm
Heel Leg length : 21cm
The above measurements can be differ according to the measuring method you use.
If you need the accurate measurement
we encourage you to measure your doll again once you received.